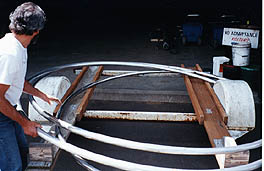 Remember these? In 2000, Bob had the rims for two new wheels made.

They need spokes and that has caused a bit of a set-back. It has not been easy (or cheap) to find a source and proper tooling to make spokes for 6' wheels.

But, perhaps there's a chance…
Would you like to sponsor the new vehicle? We can't tell you here, but it will feature an amazing feat of engineering. Your NAME would be on that new vehicle and the glory that has blessed Bob's original vehicle could shared with you.

Winter is setting in. Rather than hibernate, Bob could be welding the frame and machining the secret feat of engineering. So, don't delay.

Return to the Home Page and click on Meet the Pilot.