Blame Antarctica.

Bob's wife was away on a research cruise to Antarctica at the close of 1995. She vaguely remembers receiving an e-mail message aboard the Nathanial B. Palmer in which Bob makes reference to a Killer Tomato.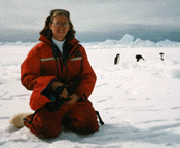 Blame A.C. Gilbert.
Some men never let go of their toys. Bob is no exception. A thirty-years old (or more) erector set became the chasis for a prototype of what would become Bob's kinetic vehicle.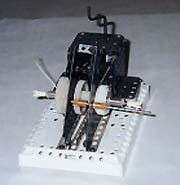 Blame Nuts
.
Bob used the proceeds from tasting rancid nuts to purchase two 8' irrigation wheels. They fit fine outdoors. However, the garage door was only 7' tall.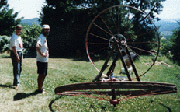 Blame Good Friends.

Had it not been for good friends, Bob would have had difficulty bribing judges, picking up broken parts, photographing and videotaping his exploits, and getting out of mud bogs. Good friends are destined to be pit crew (er, honored guests) of Bob and his vehicle.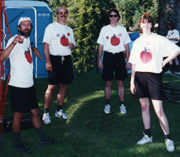 Blame Chemistry.

It's true. Had Bob not pursued a career in chemistry, he might have been a welder, machinist, mechanic, or bum. As senior research assistant in Food Science and Technology, Bob has seen lots of strange fruits and vegetables. It was only a matter of time until he began to fabricate his own tomato. To do so, meant blending his lifelong knowledge of bicycle riding and repair with learning to weld a giant frame that would accomodate 63 gears and two, 8' diameter wheels. His first attempt at welding yielded a wind chime made up of railroad stakes. In the event of a Force 8 wind, he'll be warned.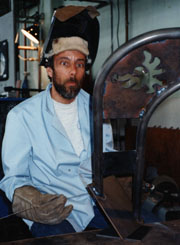 By all means, blame these folks:
Oregon State University Department of Food Science and Technology, Kerry Montgomery,Megan Durst, Joe & Luan Durst,Roger, Jennifer, Sarah & Katie Ovink, Barb, Maria, & Rachel Hargand, Denis Body& Kathy Sercu, Dwight, Gabi, David, Peter, & Michael Carey.
These folks are also to blame:

Paul Vibrans, Harry Connoly & Mary Ann Kuchera, Julie Arrington & David Nelson, Captain Joe and the icebreaker, RV Nathaniel B. Palmer, Dave Ullman, Raan Young & Laura Morrison, and others whom we've temporarily forgotten!